This event is closed.
This event is sold out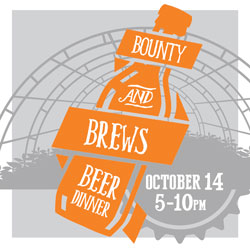 Now in it's 6th year, Bounty and Brews is
Fort Collins' premiere community dining experince.
....
This event celebrates the culmination of a bountiful harvest season. Guests will enjoy six courses crafted with local foods by some of Fort Collins' finest chefs paired with beers from six local breweries.
The evening will feature live music from The Black Mesa Trio and an abundant silent auction to support The Growing Project.
....
course 1: Cafe Vino paired with Maxline Brewery
course 2: Locality paired with Horse & Dragon
course 3: Fish Restaurant paired with Three Four Brewing
course 4: Tasty Harmony paired with Zwei Brewing
course 5: Cacciatore at Heller's Kitchen paired with Odell
course 6: Jay's Bistro paired with New Belgium
(vegetarian options will be available)
Tickets are $90.
A free shuttle will be provided from Old Town and Mid Town
(This is a 21+ event)
Guest List
Lynn Altschuler

---

Evelyn Audley

---

David Banner

---

Mike Beckstead

---

Michele Bethke

---

Robert Bethke

---

Nina Bodenhamer

---

John Bodenhamer

---

Julia Boelte

---

Brooke Bontz

---

Tucker Bush

---

Tucker Bush

---

Chris Campbell

---

sonia cooper

---

Zack Cousins

---

Noelle Cregar

---

June Durand

---

Megan Frahm

---

Louisa Gibson

---

Mike Goot

---

Karen Goot

---

Gary Guber

---

Michael Harrington

---

Crystal Harvey

---

Ted Hendrickx

---

Michael Hogan

---

Elizabeth Hogan

---

Brian Hollahan

---

melanie holzner

---

joakim holzner

---

Jake Huggenberger

---

Alan Huggenberger

---

Tony Joern

---

Timothy Johnson

---

Courtney Johnsrud

---

Brent Johnsrud

---

Matt Johnston

---

Amanda Kaczmarek

---

Lyn Kloss

---

Leslie Larsen

---

Stacey Martin

---

Stephanie Neid

---

Troy Onda

---

Nikki Onda

---

Sarah Reed

---

Catalina Russell

---

Robert J Russell

---

Lauren Sas

---

Karen Sas

---

Lugene Sas

---

Mike Schiavo

---

Fran Schiavo

---

Craig Schiffner

---

Lori Schiffner

---

Jane Shaw

---

Rachael Sitz

---

Ransom Sitz

---

Susan Snyderman

---

Helen Taylor

---

Kim VanderSchaaf

---

Linda Vescio

---

Kim Webb

---

Nick Whitworth

---

Robert Wilson

---

Jessica Witt

---

Seth Wolschlager

---